Wheels and tires tend to go through a lot of wear and tear but that's their job. So it is our job to maintain and keep them in the best condition possible. Knowing how to detail your wheels and tires can be beneficial for any car enthusiast and person who wants to maintain their vehicle optimal condition and is an important step in the overall auto detailing process. Specifically, cleaning your wheels is beneficial to the appearance but helping them last as long as possible. Allowing dust, dirt, and grime buildup on your wheels and tires will not only look terrible but it will deteriorate at your wheels overtime. It is recommended that your should maintain your wheels with a basic soap and water solution every time your wash your car which should be every 1-2 weeks. Now get out there and clean them!!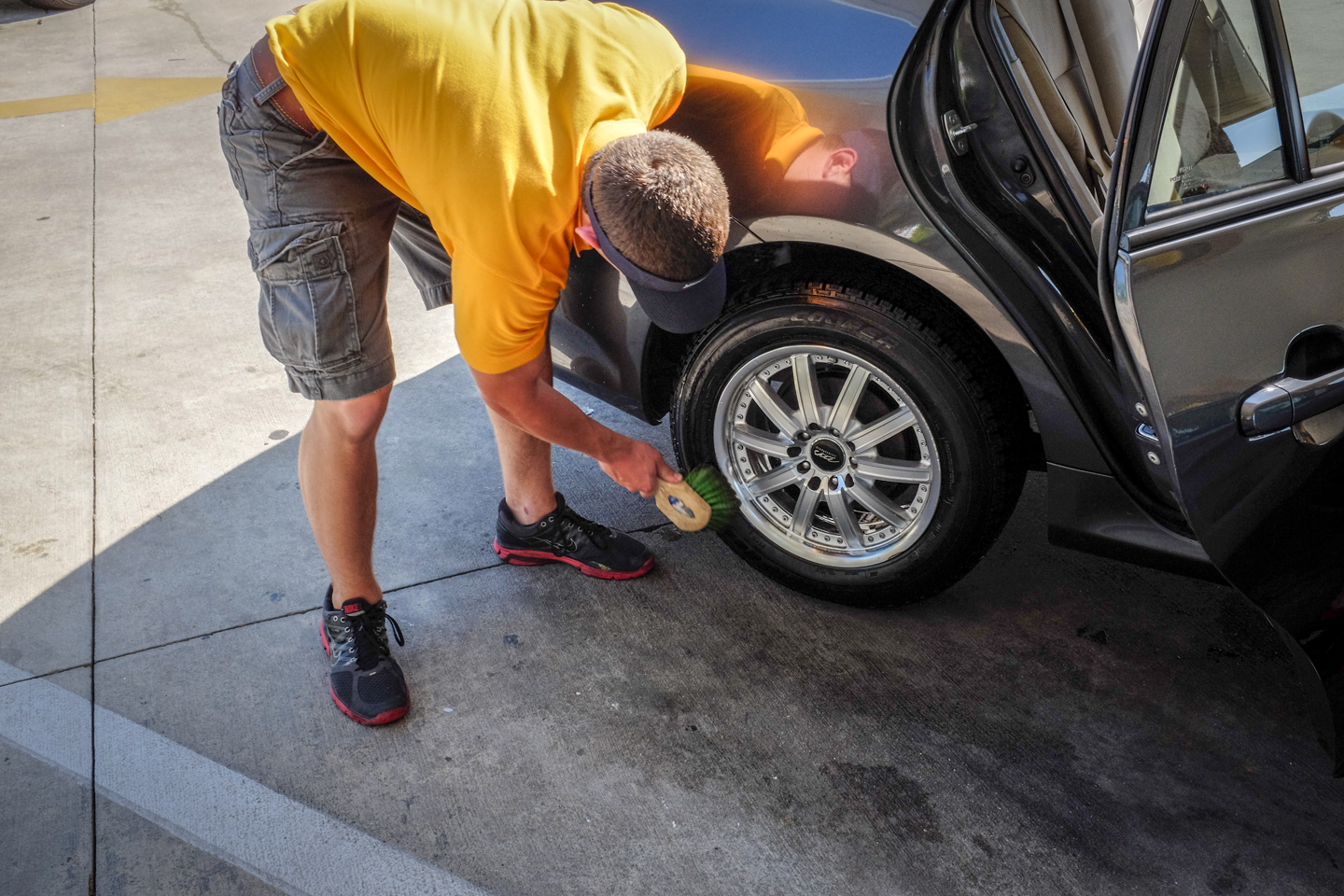 When cleaning your wheels be sure to use the proper cleaning solution and brushes as it can potentially damage your wheels. Always clean your wheels before wash your vehicle as it can cause unwanted splatter upon your vehicle. Clean the wheels in the shade if possible or rinse them often with water to prevent stains while in direct sunlight.
The best way to clean your wheels and tires is to use an automotive soap and water solution with a bristle brush. Although the solution will remove most of the dirt and grime, you may be required to use a wheel cleaner with a stronger cleaning power. Be sure the wheel cleaner is a pH balanced solution to prevent damage to your wheels. Scrub the wheels thoroughly with the solution and brush including the lug nuts. Once you are finished, be sure to rinse with a strong stream of water to remove the dirt, solution, and other contaminates.
Sometimes you may want to go the extra mile and polish/wax your wheels to help increase the gloss and depth of your wheels as well as remove some imperfections. To do so, gather either a metal wheel polish or wheel wax and apply a dime sized amount to a microfiber towel rub into the surface of the wheel with slight pressure. Once the wax or polished, get a clean microfiber towel and remove the excess; repeat on each wheel as necessary. It's a smart idea to do a thorough deep cleaning of the wheels whenever you do a full auto detail of your vehicle and especially when it comes time to resell your vehicle. Final Tip: Clean your wheels as often as possible to prevent brake dust build up which can lead to permanently baked wheels! A drive thru car wash can be a simple and effective solution to meet this need.